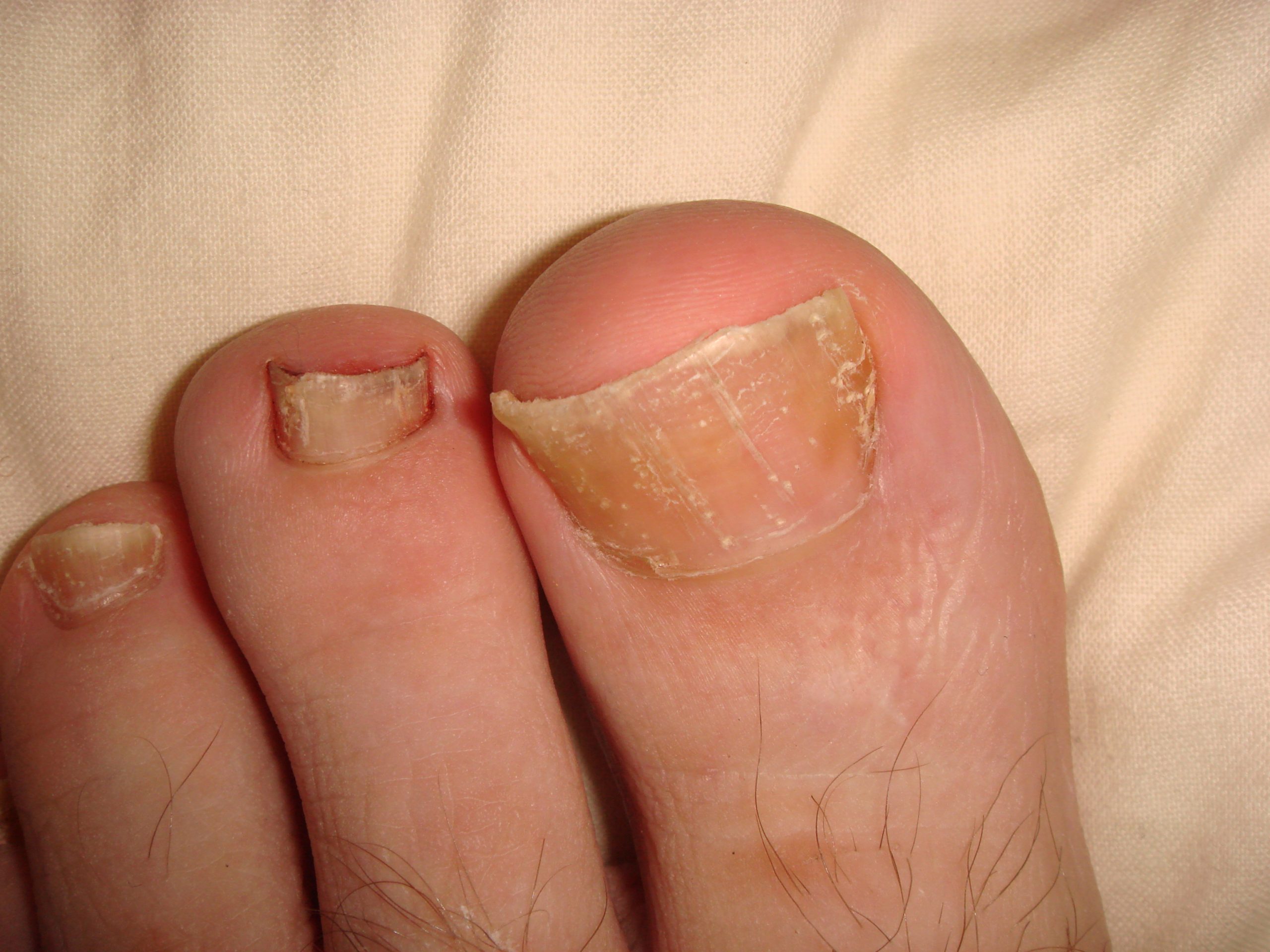 Nail psoriasis
(otherwise psoriatic nail dystrophy) – the form of chronic systemic inflammatory autoimmune disease psoriasis, which mostly affects fingernails and toenails.
more common in persons over 40 years of age
more typical for men
more likely if you have psoriasis or have relatives with it (more than 50 percent of people with psoriasis also have psoriasis of the nails)
psoriatic arthritis is often present at the same time (even over 80 percent of patients)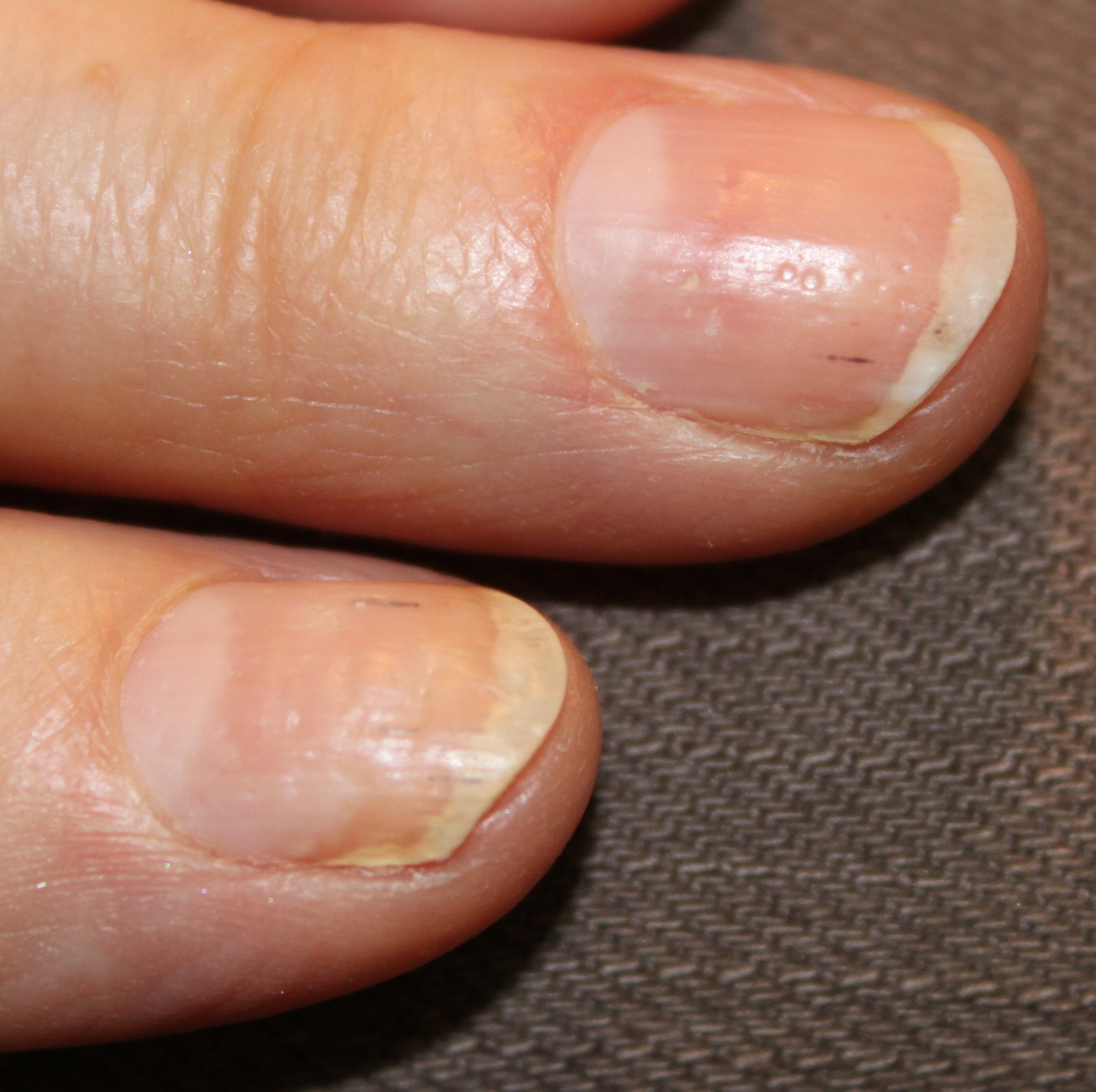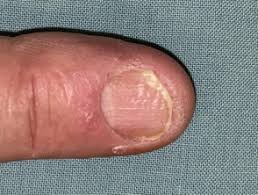 Clinical Symptoms
In case of nail psoriasis, nail lesions characteristic of the disease appear:
changes in the color of the skin under the nail (also called oil spots) – yellow, red, pink or brown spots may appear
damage to the nail plate – depressions of various depths
horizontal lines may appear on the nail plate
nails can become very thin and begin to break, split, crumble
the nail may thicken due to keratin build-up under the nail
Possible symptoms:
feeling of stretching
soreness
a general feeling of discomfort in and around the nail
Diagnostics
The patient's survey and examination data are usually sufficient to establish the diagnosis. If the patient has psoriasis, the Psoriasis Severity Index (PASI) may be determined together. If there is a suspicion that a fungal nail infection may have contributed to the patient, a KOH test or microbiological culture test is performed.
Treatment
Depending on the severity of the disease, the doctor personally creates the most suitable treatment plan for each patient. General recommendations: avoid additional trauma to damaged nails, keep nails short.
For treatment can be used:
hormone ointments
other topical medications (calcineurin inhibitors, calcipotriol)
oral hormones
biological therapy drugs
other oral drugs affecting the immune system
phototherapy
photodynamic therapy
laser therapy
Treatment can help control nail psoriasis and achieve recovery, but usually the treatment effect remains temporary, as the disease and its symptoms tend to recur.
If you are unsure about your diagnosis and over-the-counter remedies from the pharmacy don't help – seek help from a dermatologist!
iDerma team will provide a consultation within 24 hours, explain your diagnosis and prescribe the necessary treatment remotely!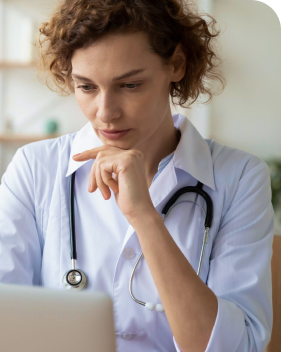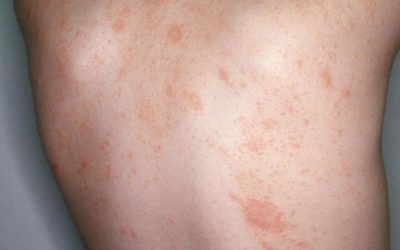 An acute, self-limiting, exanthematic skin disease that manifests as itchy, somewhat inflammatory, scaly rashes, usually on the torso, chest, and upper limbs.
read more